MONDAY & TUESDAY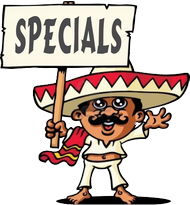 Buy one combination and get a second combination free.
(combo #1 to #12 only) from 3:00 pm to closing time.
Highest price applied. Not available for take out.
Not available for certain holidays.
Not for children under 5 years old.
No separate checks.
ONE COMBO PER CUSTOMER.
————————————————————-
Daily from 11:00 am until 3:00 pm
Take $1.50 Off from combinations #5 to #17
——————————————————————————–
Tostada de Carnitas  $6.95
——————————————————————————–
Enchiladas Verdes  $9.95
——————————————————————————–